Michael Jordan is famously known as one of basketball's all-time greats. But beyond his unmatched talent on the court, Jordan's perspective on competition, leadership, and achievement can inspire anybody striving for excellence. To provide insights from this sporting legend, here are 15 inspirational Michael Jordan quotes unpacked with analysis on their deeper meaning. Let MJ's competitive wisdom motivate you to new heights.



Here are 15 Quotes by the Legendary Basketball Player Michael Jordan



"I can accept failure; everyone fails at something. But I can't accept not trying."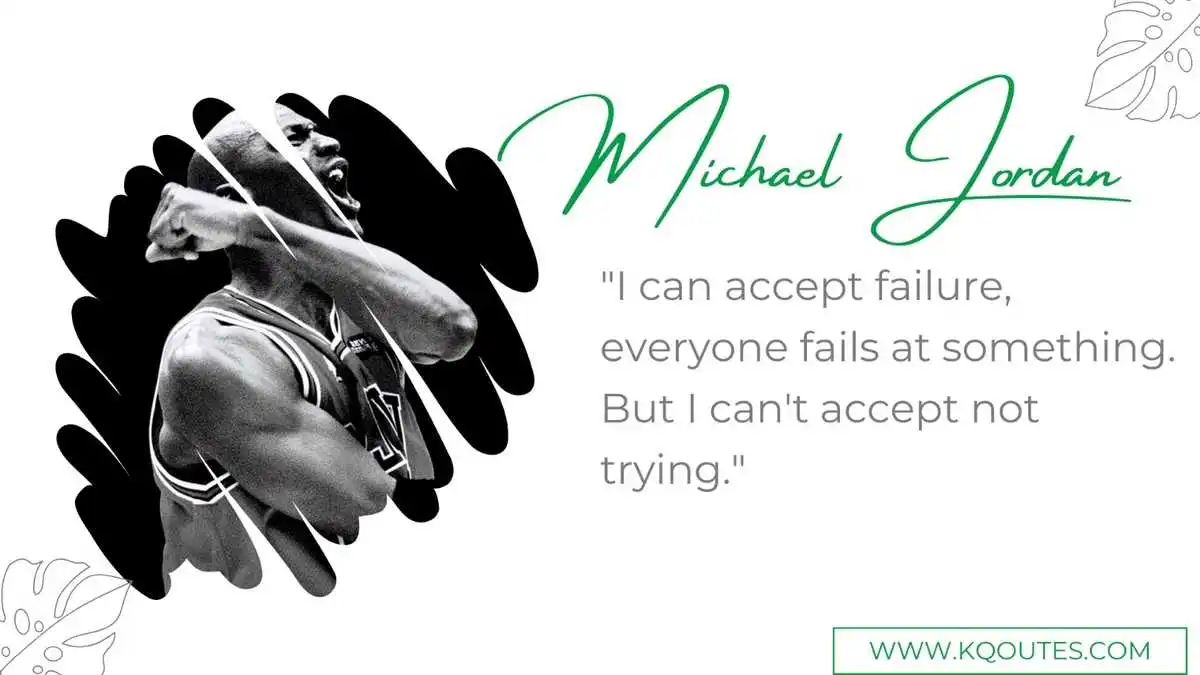 Here Jordan conveys that he is less troubled by failure than by not striving his utmost. He believes we must commit fully and try our best to have no regrets. Effort defines success more than outcomes. It means that while failure is a natural part of life, refusing to make an attempt or take a chance is even more unacceptable, as it prevents personal growth and progress.



"My attitude is that if you push me towards something that you think is a weakness, then I will turn that perceived weakness into a strength."



This quote exemplifies Jordan's competitive spirit to turn challenges into opportunities and exceed perceived limitations. Weaknesses fuel his motivation to grow stronger. It suggests that when faced with challenges or areas perceived as weaknesses, the individual is motivated to transform them into strengths through their own effort and determination.



"I've missed more than 9000 shots in my career. I've lost almost 300 games. 26 times, I've been trusted to take the game winning shot and missed. I've failed over and over and over again in my life. And that is why I succeed."



Jordan emphasizes repeatedly overcoming failure is the pathway to success. Perseverance and resilience, not talent alone, enable achieving greatness. This quote highlights the importance of resilience and learning from failure. Jordan's numerous missed shots and failures ultimately contributed to his success by pushing him to keep improving and striving for greatness. It underscores the idea that failure is a crucial part of the journey to success.



"Some people want it to happen, some wish it would happen, others make it happen."



Here Jordan distinguishes how the drive to proactively make things happen rather than passively wishing leads to success. Champions have a relentless work ethic. This quote distinguishes between different levels of determination and action. It suggests that there are those who merely hope for things to occur, some who desire but don't take action, and others who actively work towards making their goals a reality. It encourages proactive and decisive behavior to achieve one's aspirations.



"I play to win, whether during practice or a real game. And I will not let anything get in the way of me and my competitive enthusiasm to win."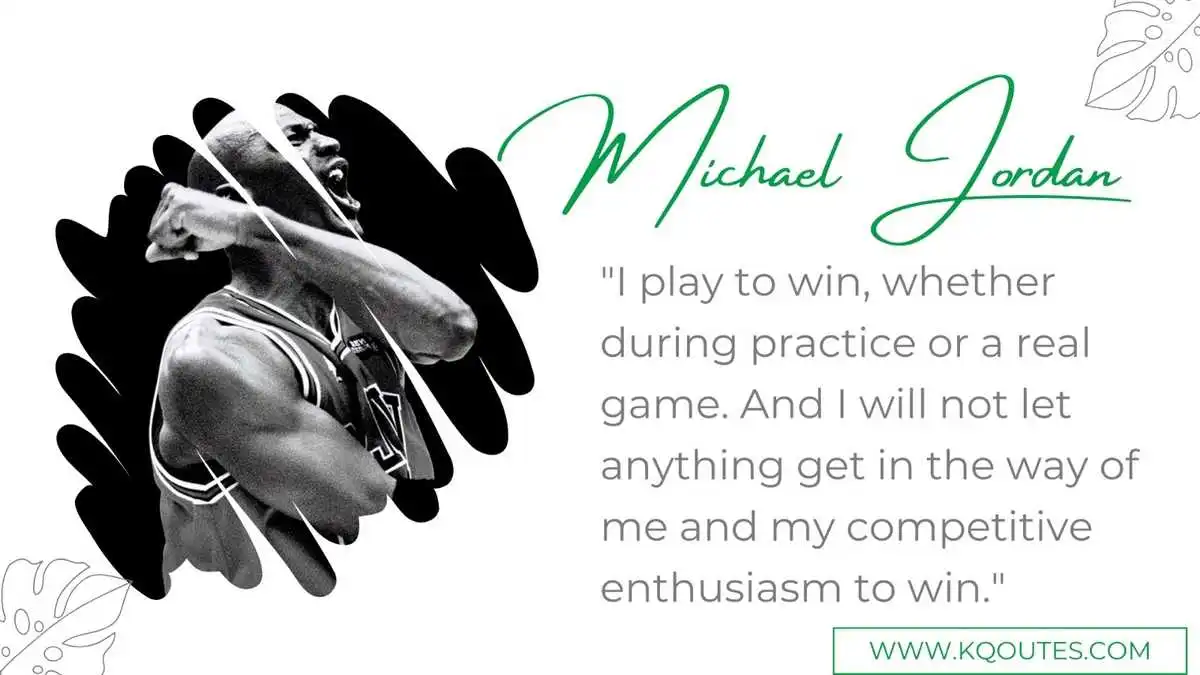 This quote encapsulates Jordan's famous competitiveness. He brought 100% intensity and will to win every single game, even just practices. This quote conveys a strong commitment to winning and a fierce competitive spirit. It means that the individual approaches both practice sessions and actual games with the same level of determination and enthusiasm, and they are unwavering in their pursuit of victory, not allowing any obstacles to deter them.



"Talent wins games, but teamwork and intelligence wins championships."



Jordan understands that individual talent alone does not achieve sustained success. Championships require collective coordination, smarts and chemistry. This quote underscores the significance of collaboration, strategy, and collective intelligence in achieving long-term success. While talent may lead to victories in individual games, it suggests that achieving championships requires a combination of teamwork and strategic thinking. It emphasizes the importance of working together effectively and making intelligent decisions as a team to reach the ultimate goal.



"If you quit ONCE it becomes a habit. Never quit!!!"



With this quote, Jordan emphasizes persistence is a habit that compounds over time. Quitting even once makes it easier to quit again. Resolve must be unbreakable. This quote emphasizes the danger of quitting, suggesting that giving up even once can establish a pattern of quitting in the future. It encourages persistence and the determination to never give up, highlighting the idea that perseverance is key to breaking the cycle of quitting.



"I can't relate to lazy people. We don't speak the same language. I don't understand you. I don't want to understand you."



Here Jordan openly expresses his outrage for laziness and lack of work ethic. He cannot comprehend not striving to maximize potential. This quote expresses a strong disapproval of laziness and an inability to empathize with those who lack motivation or a strong work ethic. It conveys a clear separation between the speaker's values and those they perceive as lazy, indicating a lack of desire to engage with or comprehend such individuals.



"Limits, like fears, are often just an illusion".



Jordan believes we impose mental limits and fears on ourselves that hold us back from true capabilities. Pushing past self-imposed barriers unlocks potential. This quote suggests that limits and fears are frequently not based on actual constraints but rather on one's perception and mindset. It encourages the idea that many limitations can be overcome with determination and a change in perspective, implying that individuals have the potential to achieve more than they might initially believe.



"Always turn a negative situation into a positive situation."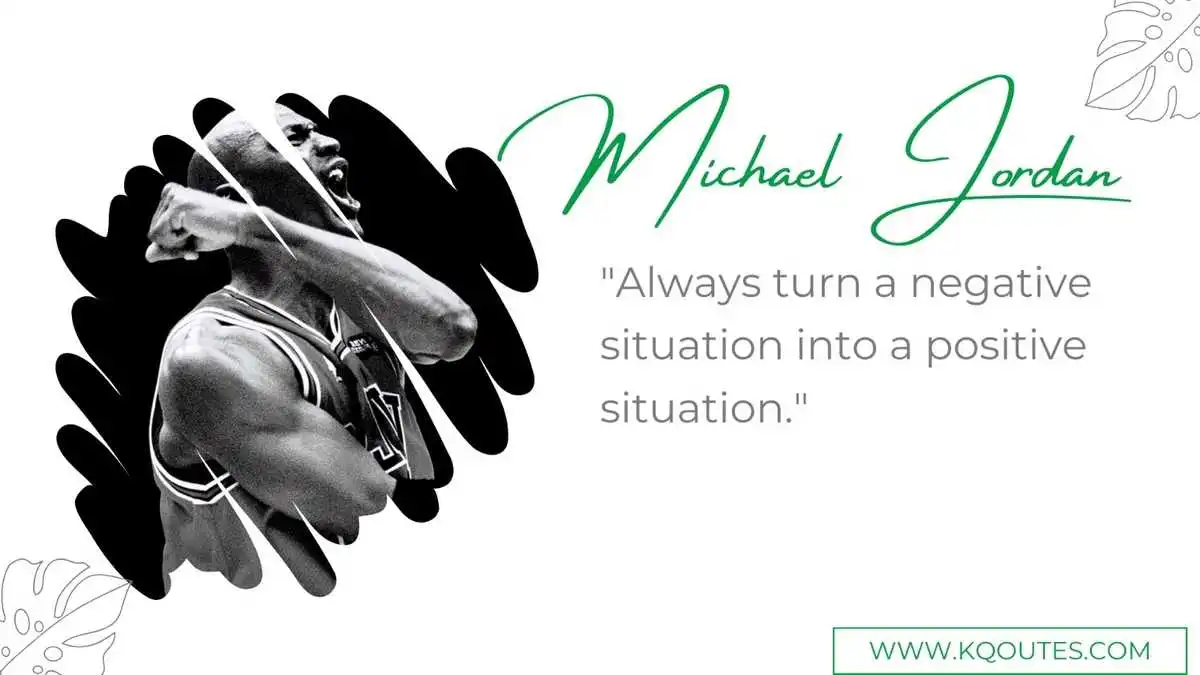 This quote conveys Jordan's mindset of relentlessly seeking the positive and opportunity within adverse circumstances. Setbacks catalyze growth. This quote encourages the practice of finding a silver lining or opportunity for growth in adverse circumstances. It emphasizes the importance of maintaining a positive outlook and seeking solutions or benefits even when faced with challenges or negativity.




"If you do the work you get rewarded. There are no shortcuts in life."



Jordan insists that consistent hard work inevitably leads to rewards over time. He dismisses notions of quick shortcuts to lasting success. This quote underscores the principle that hard work and effort are essential for achieving rewards or success in life. It emphasizes that there are no quick or easy shortcuts to meaningful accomplishments, emphasizing the importance of dedication and diligence in pursuing one's goals.



"Some people think that when you become successful, it changes who you are. It doesn't change who you are – it reveals who you are."



Here Jordan proposes success simply amplifies the core character already within someone. It tests and unveils true colors. This quote suggests that success doesn't fundamentally alter a person's character; instead, it brings out and highlights their true nature. It implies that success can reveal the qualities, values, and traits that were already present within an individual, whether positive or negative, rather than creating new ones.



"I realize that I'm black, but I like to be viewed as a person, and this is everybody's wish."



With this quote, Jordan transcends race and wants to be judged by his character merits as an individual foremost. Greatness has no color. This quote expresses the desire for equal treatment and recognition of one's humanity beyond racial identity. It underscores the universal wish for individuals to be seen and respected as individuals rather than being defined solely by their racial background. It highlights the importance of embracing diversity and promoting equality.



"I wouldn't say I work harder than the next guy; I just have a tremendous amount of confidence in my abilities."



Jordan credits his self-belief more than work ethic for fueling his success. Supreme confidence empowered his performance. This quote suggests that the speaker's confidence in their abilities plays a significant role in their success. It implies that their self-assuredness drives them to put in the necessary effort and determination, ultimately leading to their achievements. It emphasizes the power of self-belief in achieving one's goals.



"If you're trying to achieve, there will be roadblocks. I've had them; everybody has had them. But obstacles don't have to stop you. If you run into a wall, don't turn around and give up. Figure out how to climb it, go through it, or work around it."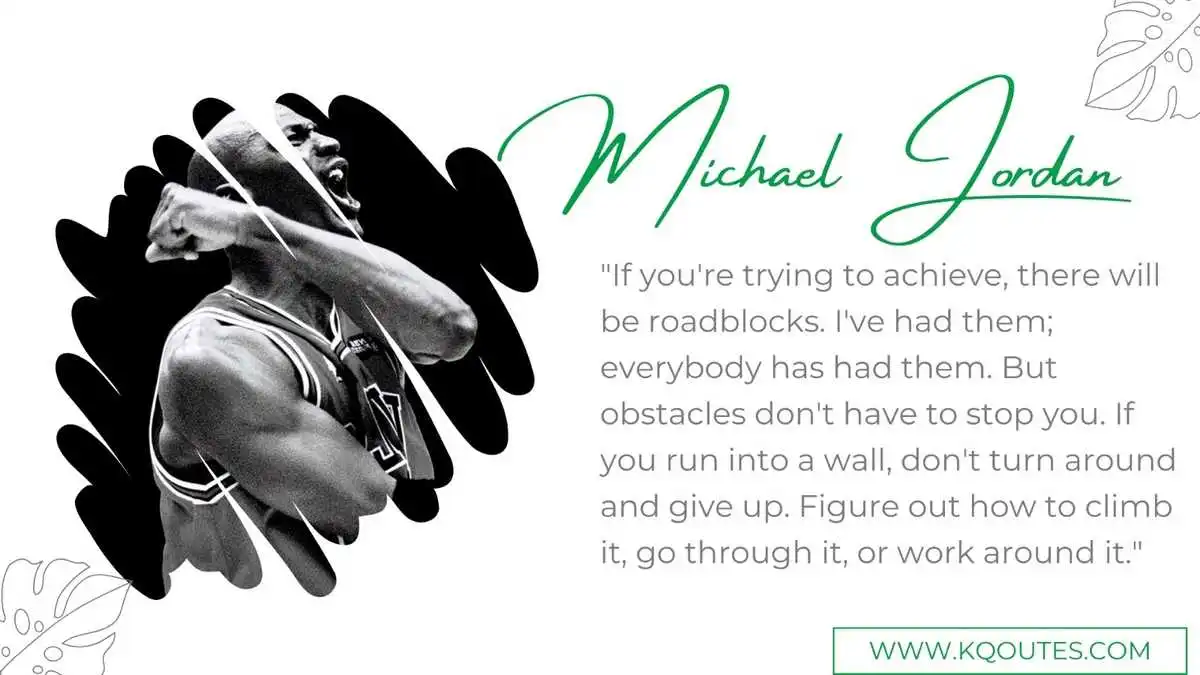 Here Jordan encourages overcoming inevitable obstacles with mental flexibility and grit. Setbacks are surmountable with determination to find alternative paths. This quote emphasizes that pursuing goals often involves encountering obstacles. It encourages a determined and resilient mindset, suggesting that when faced with a barrier, one should not simply give up but rather find creative and determined ways to overcome it. It underscores the importance of perseverance and problem-solving in achieving success.






Michael Jordan Quotes: Inspiring Wisdom from the GOAT



Which are your Favorite Michael Jordon Quotes?



Leave a comment below.