Oprah Winfrey is a household name and an icon in the world of television, media, and philanthropy. She has been a role model and a source of inspiration for millions of people around the globe. Her journey from a troubled childhood to becoming one of the most successful and influential media personalities of our time is a true testament to the power of perseverance, hard work, and resilience.
Throughout her career, Oprah has shared her wisdom and insights with her audience through her talk shows, books, interviews, and speeches. Her words have the power to uplift, motivate, and inspire people to become their best selves. In this blog, we'll look at some of the most impactful Oprah Winfrey quotes that can help you find inspiration, guidance, and direction in your own life.
Table of Contents
Oprah Winfrey Quotes
"The biggest adventure you can ever take is to live the life of your dreams."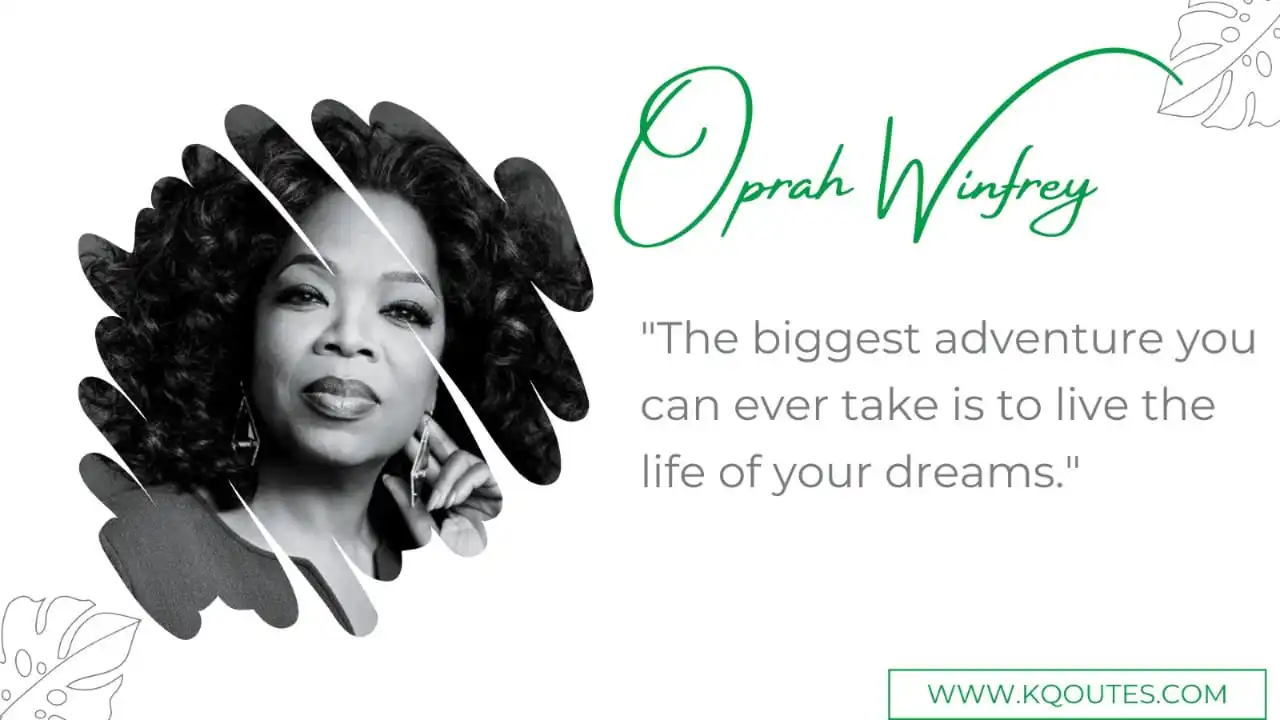 This quote embodies Oprah's philosophy of living a life that is true to oneself. She believes that we all have a unique purpose and passion that we should pursue with all our hearts. We should never settle for a life that doesn't align with our values, goals, and aspirations. The journey to realizing our dreams may be challenging, but it's a journey worth taking.

"You become what you believe."
Oprah emphasizes the importance of belief in shaping our reality. Our thoughts and beliefs determine our actions, and our actions shape our destiny. If we believe in ourselves, our abilities, and our potential, we can achieve anything we set our minds to. On the other hand, if we doubt ourselves and our capabilities, we limit our potential and hinder our growth.

"Turn your wounds into wisdom."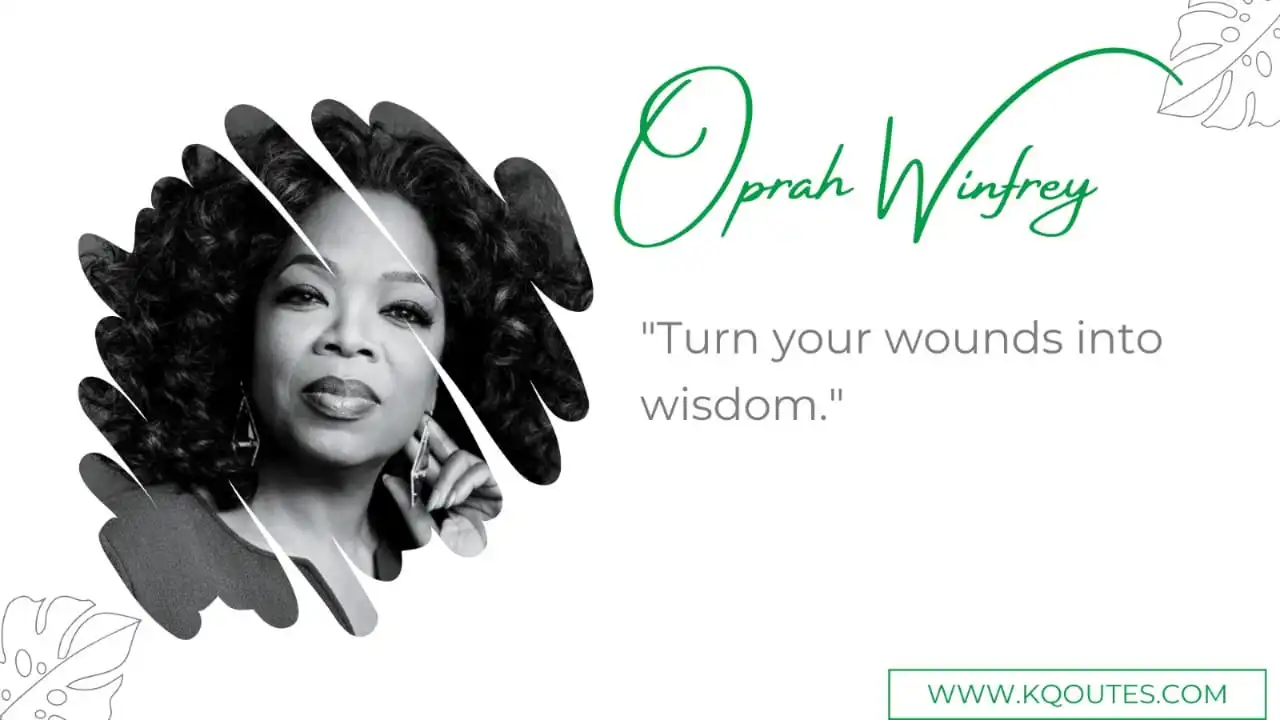 Oprah has had her fair share of setbacks and challenges in life, but she has always used them as opportunities to learn and grow. This quote encourages us to turn our past pain into a source of strength and wisdom. By acknowledging and processing our emotional wounds, we can gain valuable insights and use them to help ourselves and others.

"You don't become what you want, you become what you believe."
This quote is a reminder that our desires and goals are not enough to create the life we want. We need to have a deep sense of belief in ourselves and our abilities to manifest our dreams. It's not enough to want success, love, or happiness; we need to believe that we are worthy and capable of achieving them.

"The more you praise and celebrate your life, the more there is in life to celebrate."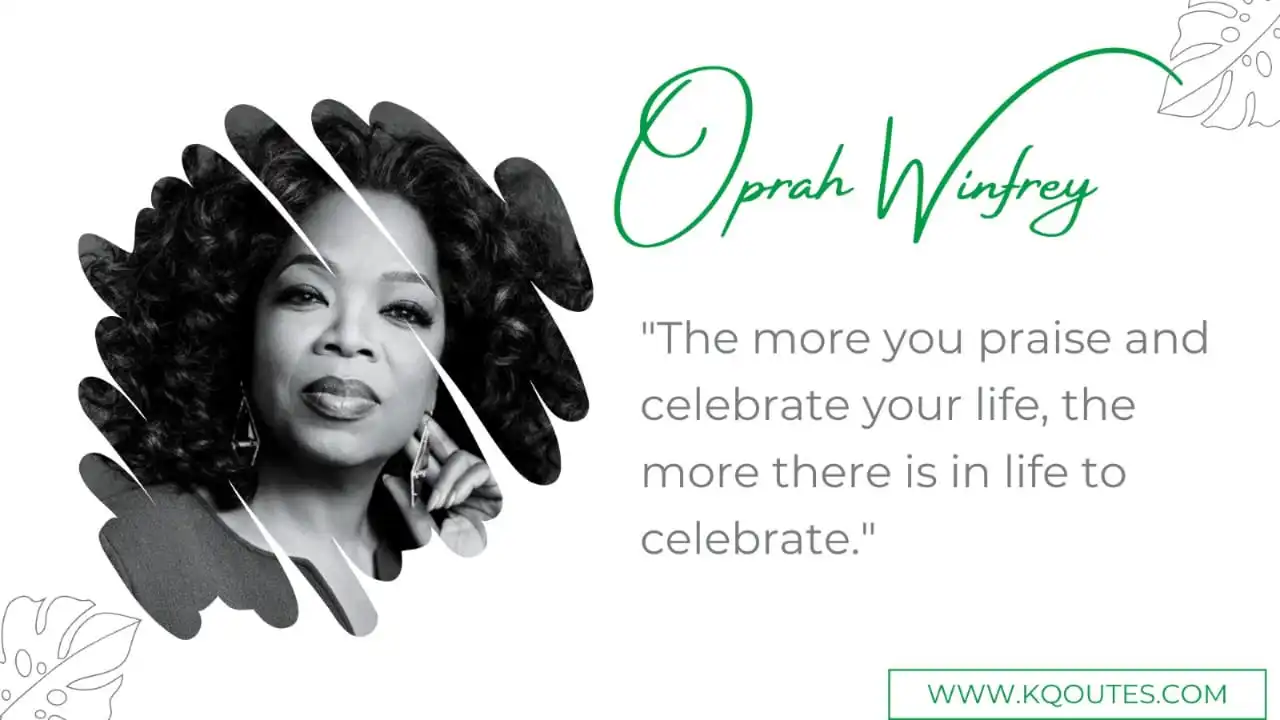 Oprah emphasizes the importance of gratitude and positivity in our lives. By focusing on the good things in our lives and celebrating our accomplishments, we attract more positivity and abundance into our lives. Gratitude is a powerful tool that can shift our perspective and help us appreciate the beauty and wonder of life.

"The greatest discovery of all time is that a person can change his future by merely changing his attitude."
This quote highlights the importance of our mindset in shaping our future. Our thoughts and beliefs influence our actions and ultimately determine our outcomes. By adopting a positive and growth-oriented attitude, we can overcome obstacles and achieve our goals.

"Challenges are gifts that force us to search for a new center of gravity. Don't fight them. Just find a new way to stand."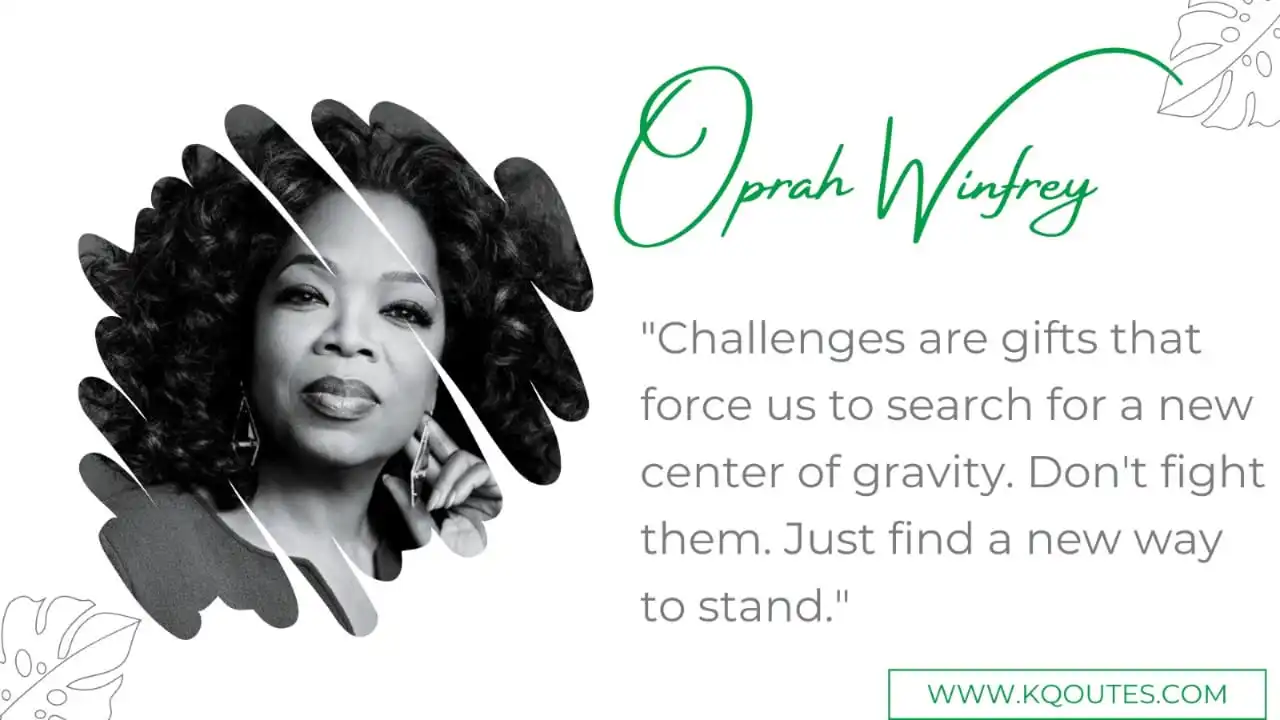 Oprah believes that challenges are opportunities for growth and self-discovery. Instead of resisting or avoiding them, we should embrace them and use them as catalysts for change. By finding new ways to approach problems, we can develop resilience and adaptability.

"I believe that one of life's greatest risks is never daring to risk."
This quote emphasizes the importance of taking risks and stepping outside our comfort zones. Oprah encourages us to be bold and courageous in pursuing our dreams and not let fear hold us back. Without taking risks, we limit our potential and miss out on the opportunities that life has to offer.

"Passion is energy. Feel the power that comes from focusing on what excites you."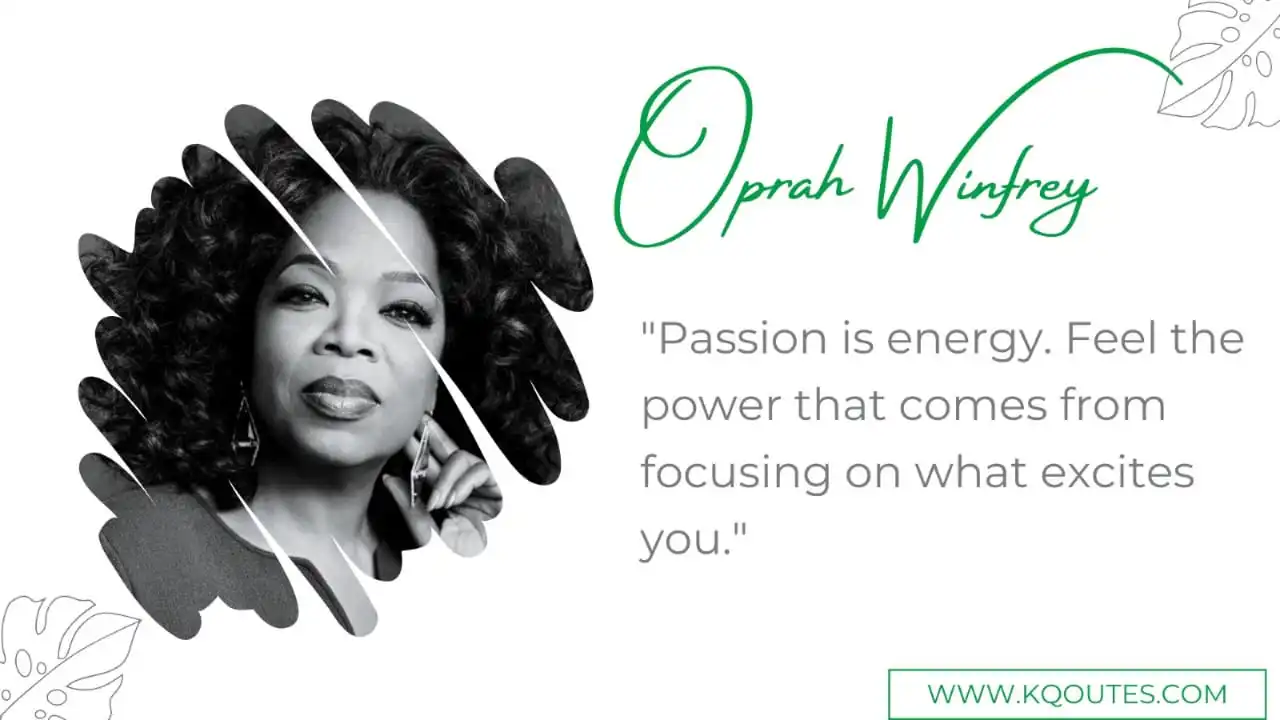 This quote highlights the importance of passion and enthusiasm in our lives. When we pursue our passions, we tap into a source of energy and inspiration that can propel us forward. By focusing on what excites us, we can unleash our full potential and create a life of purpose and meaning.

"The single greatest thing you can do to change your life today would be to start being grateful for what you have right now."
This quote emphasizes the importance of gratitude in our lives. By appreciating the blessings and abundance in our lives, we cultivate a sense of contentment and fulfillment. Gratitude also helps us shift our focus from what we lack to what we have, which can lead to greater happiness and satisfaction.

"Real integrity is doing the right thing, knowing that nobody's going to know whether you did it or not."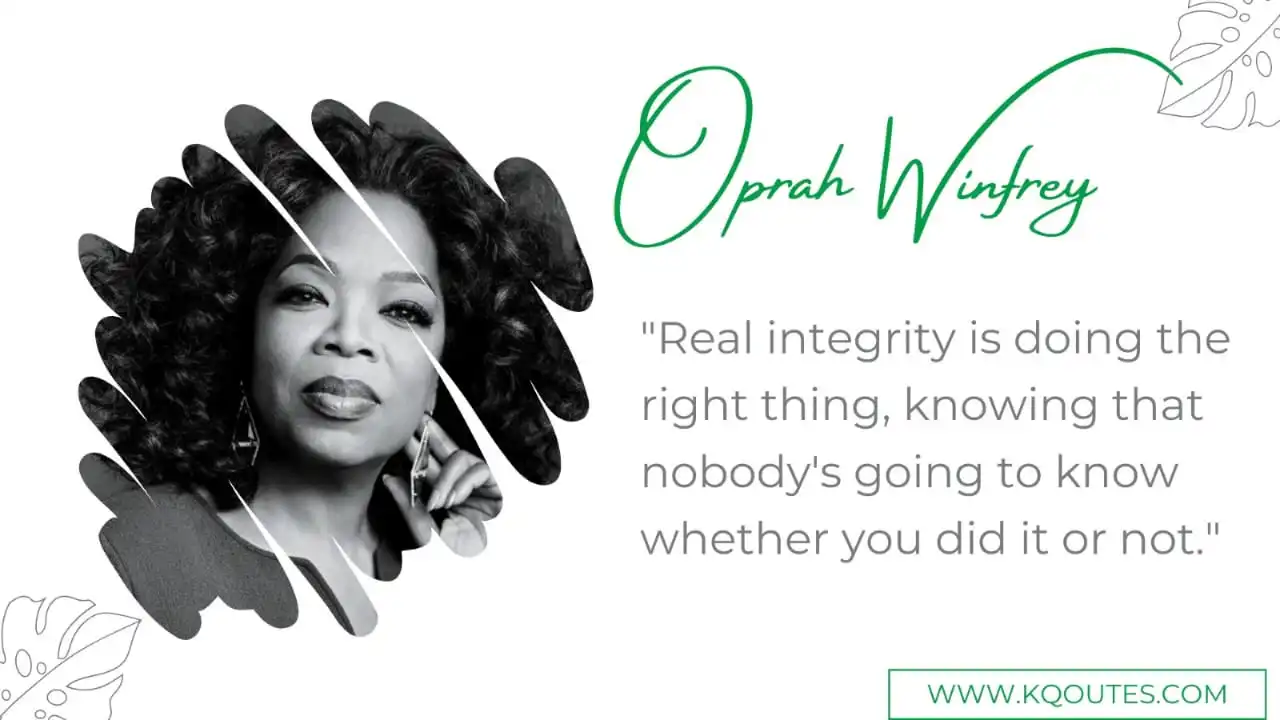 This quote emphasizes the importance of integrity and ethical behavior. Oprah believes that true integrity is not just about following the rules, but also about doing what is right, even when no one is watching. It's about being honest, trustworthy, and living by our values.

"The more you know yourself, the more clarity there is. Self-knowledge has no end."
Oprah believes that self-awareness is key to personal growth and development. By understanding our strengths, weaknesses, and values, we gain clarity and direction in our lives. Self-knowledge is an ongoing journey that can lead to greater self-acceptance and authenticity.

"Forgiveness is giving up the hope that the past could have been any different."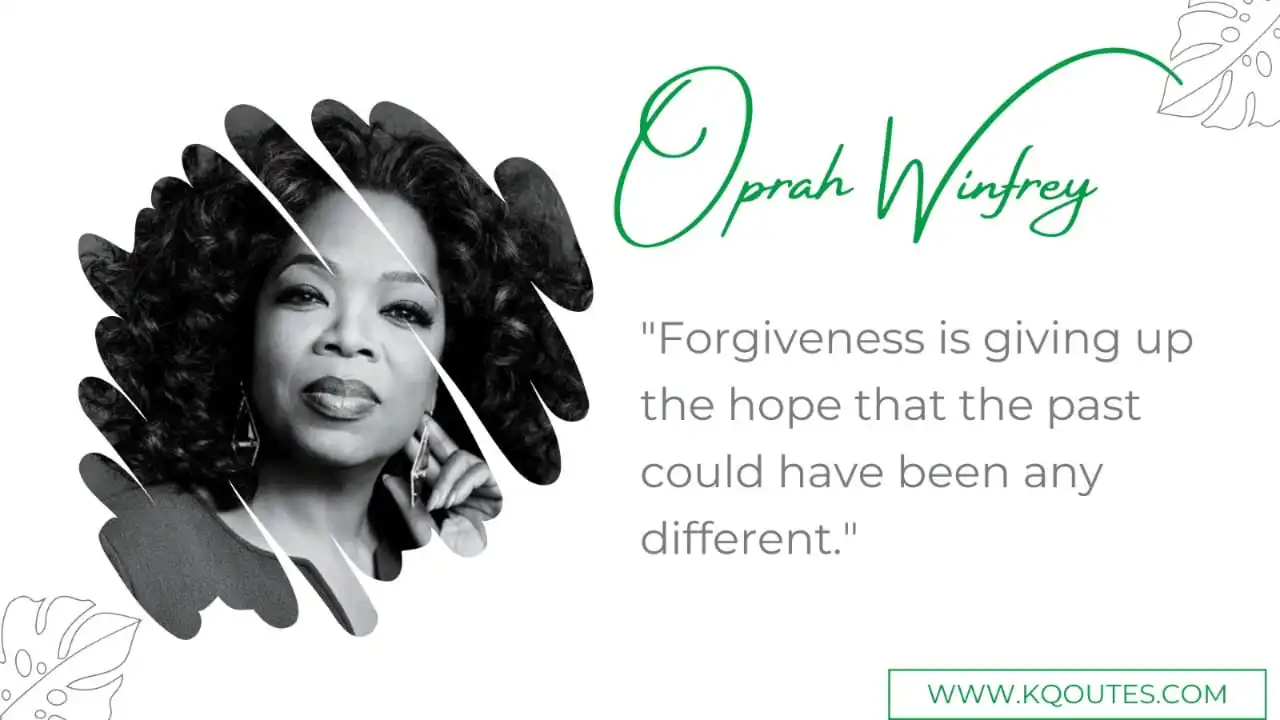 This quote highlights the importance of forgiveness in letting go of the past. Oprah believes that holding onto grudges and resentment only harms us, and forgiveness is the key to healing and moving forward. Forgiveness is not about condoning the wrongs done to us, but about releasing ourselves from the burden of anger and bitterness.

"Surround yourself with only people who are going to lift you higher."
Oprah believes in the power of positive relationships and the importance of surrounding ourselves with people who inspire and support us. By choosing to spend time with people who uplift us, we can create a positive and supportive environment that fosters growth and success.

"I don't believe in failure. It's not a failure if you enjoyed the process."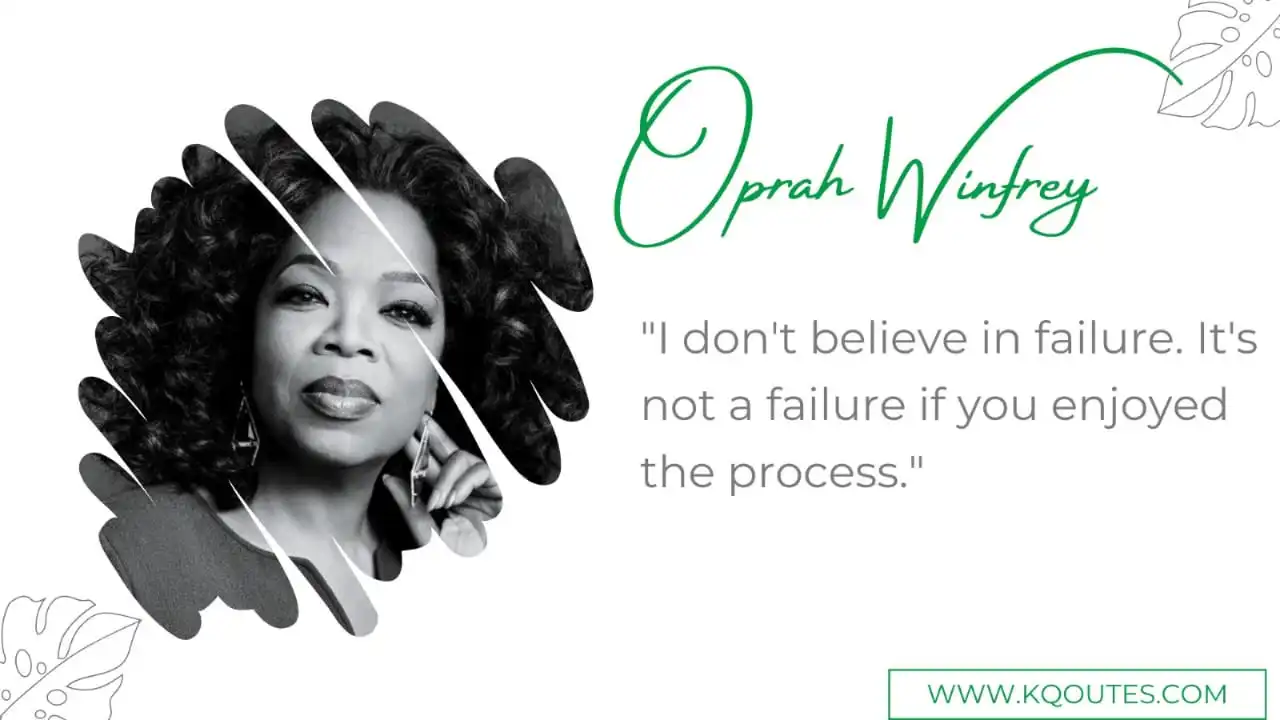 This quote emphasizes the importance of embracing failure as a natural part of the learning process. Oprah believes that failure is not something to be feared or avoided but rather an opportunity to learn and grow. By focusing on the process rather than the outcome, we can find joy and fulfillment in our endeavors, regardless of the outcome.

In conclusion, Oprah Winfrey is a true inspiration to millions of people around the world. Her words have the power to transform lives and help people find their path to success, happiness, and fulfillment. By embodying the principles and values that Oprah espouses in her quotes, we can all create the life of our dreams and make a positive impact on the world around us.